Embers take Kamado Joe to UK streets!
20-May-2015
20-May-2015 15:41
in General
by Admin
Last weekend the boys at Embers took our Kamado Joe - Classic Joe ceramic BBQ to the Cotham Hill Street Party in Bristol where we set up stall and did some cooking demonstrations to educate the UK public in the delights of the moister meats and wood fired flavour that the kamado joe offers.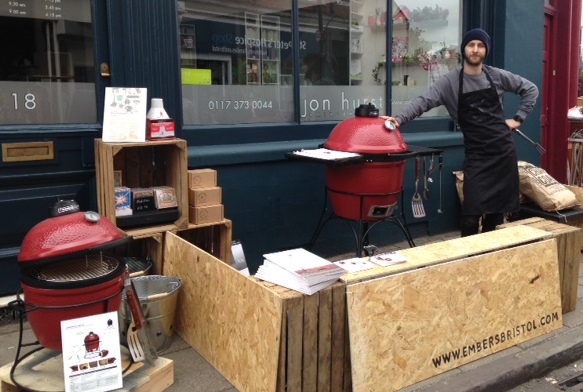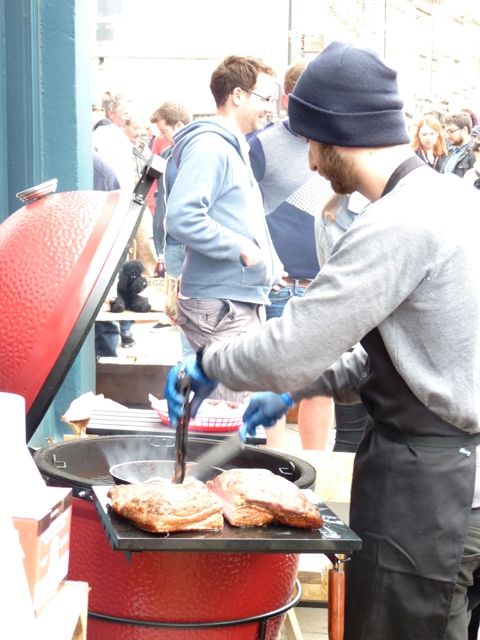 We prepared a huge slab of pork belly for 7 days before the event to cure and flavour. At the event we prepared the Kamado Joe for smoking and used hickory chunks to smoke the pork at 100 degrees Celsius for two hours.
The Kamado ceramic grill is still a new thing in the UK and the people of Bristol had plenty of questions about our classic Joe and how it works. Some people have heard of the Big Green Egg but the exclusive image and expensive price make people think this type of cooking is for Michelin star restaurants only! Well we are bringing Kamado cooking to the people!
After smoking our meat we reconfigured our 18" Classic Joe for direct cooking and got the temperature roaring as we carved the hickory smoked pork belly into rashers. Crowds formed very quickly at the sight of the pork belly and promise of a free sample.
Once our 'Big Red Egg' was up to temperature we added a cast iron skillet for frying and added the rashers causing more commotion amongst the growing crowd.
Once the samples were offered they didn't last a minute with some very complimentary comments on my culinary ability. People even tried to pay... We had a great day cooking with our Kamado Joe and are looking forward to the next event!
Click here to view our Kamado Joe range